Custom Index Tabs – Request for Quote – Order Form
Our custom index tabs – binder tabs – divider tabs won't rip or tear and are guaranteed to outlast other brands. Made with 90 lb. index cardstock with Mylar® reinforced tabs and page holes, our tabs feature Indent reinforcing technology embedded in the paper.
We carry industry specific tabs for Lawyers, Accountants and Educators, as well as the widest selection of tabs in lots of sizes and punch styles.
Because all custom index tabs are made to your specifications, we are unable to post pricing on our website. For pricing on your custom job or to place an order, please fill out the form and we will respond to you within 24 hours. Quotes will be sent via email or fax.
*Required fields – This information must be complete to process your request.
I do business with Tabs, Etc. on a regular basis. They are simply the absolute BEST, honest, and friendly company for any type of tabs that your print project may require. They do simple blank white cut tabs to very custom colored Mylar tabs. Their prices allow us to get a good mark up, too. So, when you start selling those big binder/booklet jobs that need custom tabs, I highly recommend Tabs, Etc. You'll be sorry if you use anyone else.
Tabs, Etc. Inc. is the greatest. Whenever we have a time crunch they come through with flying colors and make us look great. Thanks to them we are able to make our presentations look professional.
Your design suggestion for our project was absolutely wonderful! The binders ended up looking "like a million bucks" and thanks all go to you! Thank vou so much for contributing toward a professional-looking product.
Tabs, Etc. has played an integral role in helping my company produce high quality proposals. Not only do I receive quality products, but the service is top-notch. I know I can rely on Tabs to get the job done right the first time and on time. Thanks!
Over the past seven years, our company has enjoyed a positively wonderful experience working with the entire team at Tabs, Etc.! They consistently provide exceptional customer service and outstanding product knowledge along with high-quality custom index tabs with quick turnaround time. We thank Tabs, Etc. tor making our job easier and contributing to our success!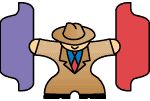 100% Client Protection • Fast Turnaround with No Charge for Rush Jobs • Serving all of the USA