Binder Tabs – Index Tabs – Divider Tabs
Tabs, Etc. focuses on index tabs, divider tabs and binder tabs, specializing in small and medium run index tab manufacturing and finishing services for a wide variety of clients. Whether you're a printing company, designer, government, medical or educational organization, or just a student or individual looking to finish your new project, our experienced staff is always ready to assist you with all of your indexing needs.
Frequently Asked Questions
The time it will take to complete your index tabs – binder tabs – divider tabs job. This will be determined by the size of your job and the finishing required. We will always do whatever we can to meet YOUR deadline.
No. We do not charge extra for a rush job. We will tell you at the time of order whether or not we can get the job done within the desired time-frame.
An emailed copy of the art to be used in producing your tabs to show layout and typesetting, along with a specification sheet to verify all of your preferences for production. NOTE: Tabs, Etc. will not produce any job without a signed-off proof sheet.
We use PMS ink or Pantome Matching System which is an international printing color language used to provide an accurate method for matching and controlling ink color.
We are very flexible and there is no markup on shipping. We use UPS and FedEx, but you can use your courier if you can get a better rate than we can provide. Local pickup is also available.
We make tabs for graphic designers, printing companies, and government, medical or educational organizations. Our experienced staff is always ready to assist you with all of your indexing needs.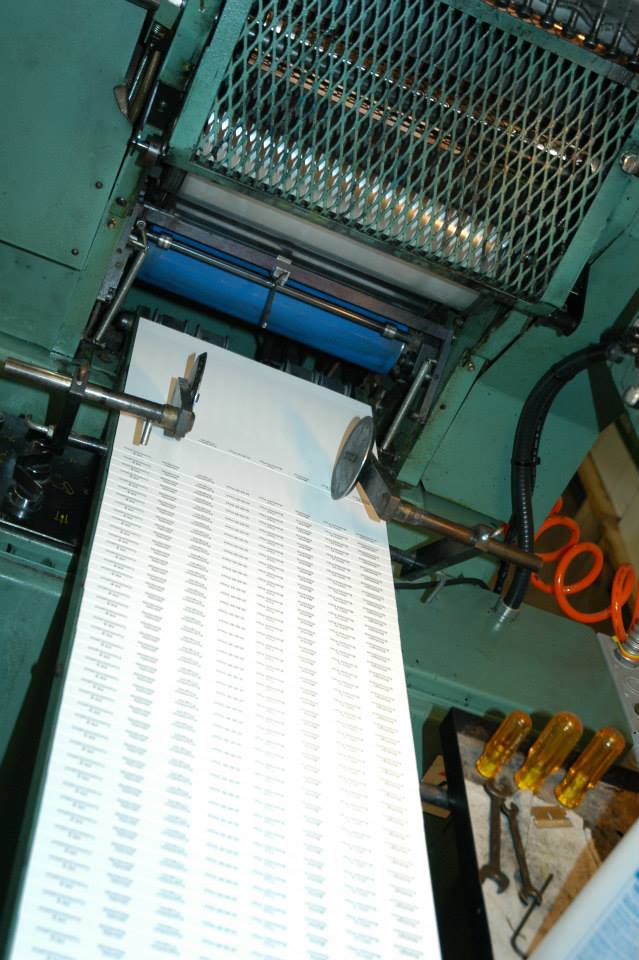 This glossary will help you understand and order tabs wisely. Our staff is always available to assist you and help you identify and select the best products for your business.
Term
Definition
Bank
A single row of tabs running the full length of the sheet, normally along the 11″ edge.
(If you order 10 tabs per set in a 1/5th cut, the first BANK will be tabs 1-5, and the second BANK will be tabs 6-10.)
 Binding edge
The edge of the sheet that will be drilled or bound in your binder or book.
 Blank tabs
A tab that has no printing, generally used to run through office copiers and printers.
 Body copy
Any printing on the sheet other than the tab text.
 Body of sheet
The size of the sheet WITHOUT the tab extension. Standard size is 8.5″ x 11″.
 Collating
The process of assembling tabs into complete sets.

Forward collating – 1,2,3,4,5,1,2,3,4,5 …

Reverse collating – 5,4,3,2,1,5,4,3,2,1 …

 Cut
The cut is determined by the number of tabs in a bank.
A 5-bank set of tabs would be described as 1/5th cut.
 Drilling
The process of putting holes in the tab sheets.
 Extension
The measurement of how far the tab extends from the body of the sheet.
Standard is 1/2″, but we can also cut 3/8″ & 1/4″.
 Inset
The distance from the top edge of the sheet to where the first tab starts (or the distance from where the last tab ends to the bottom edge of the sheet)
 Mylar
A clear or colored plastic film applied to the tab extension.
We currently have 24 different colors available.
 Overall Sheet Size
The size of the entire sheet, INCLUDING the tab extension.
Standard size is 9 x 11.
 Position
The location of the tab in the bank. For example, the first tab in the bank would be in position 1; the center cut of a 5-bank set would be position 3.
 Reinforce binding edge
A strip of clear mylar placed on the back side of the sheet to add strength to the holes and to help prevent tearing under heavy use.
 Set of tabs
The total number of tabs per book or binder. A set can be one bank of tabs, or several banks of tabs in different sizes.
 Supplied pre-printed
Tab sheet supplied to us pre-printed and we will convert into tabs.
 Tab
The extended portion of the sheet.
 Tab copy
The wording that will print on the tab extension.
 Type style
Determines the location of the tab on the sheet and the direction of the tab text.
 Typeset
Tabs, Etc. will set the type for your tab titles per your instructions.
I do business with Tabs, Etc. on a regular basis. They are simply the absolute BEST, honest, and friendly company for any type of tabs that your print project may require. They do simple blank white cut tabs to very custom colored Mylar tabs. Their prices allow us to get a good mark up, too. So, when you start selling those big binder/booklet jobs that need custom tabs, I highly recommend Tabs, Etc. You'll be sorry if you use anyone else.
Tabs, Etc. Inc. is the greatest. Whenever we have a time crunch they come through with flying colors and make us look great. Thanks to them we are able to make our presentations look professional.
Your design suggestion for our project was absolutely wonderful! The binders ended up looking "like a million bucks" and thanks all go to you! Thank vou so much for contributing toward a professional-looking product.
Tabs, Etc. has played an integral role in helping my company produce high quality proposals. Not only do I receive quality products, but the service is top-notch. I know I can rely on Tabs to get the job done right the first time and on time. Thanks!
Over the past seven years, our company has enjoyed a positively wonderful experience working with the entire team at Tabs, Etc.! They consistently provide exceptional customer service and outstanding product knowledge along with high-quality custom index tabs with quick turnaround time. We thank Tabs, Etc. tor making our job easier and contributing to our success!
100% Client Protection • Fast Turnaround with No Charge for Rush Jobs • Serving all of the USA